Bali May Return Schapelle Corby to Australia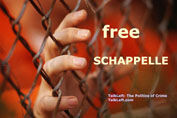 This could be the best news I've read all day. Indonesia is about to agree to a prisoner exchange treaty with Australia that might allow Schapelle Corby to finish serving her 20 year jail sentence for importing 9 pounds of marijuana into Bali, a crime she denied committing, in her native Australia. Last May, Bali said a transfer would not be considered.
It's not a "go" yet. First, the transfer treaty would have to be retroactive and cover past offenses. It's not clear that it will. Second, Schapelle might prefer to do her time in Bali.