Senate Hearing on Bush's Signing Statements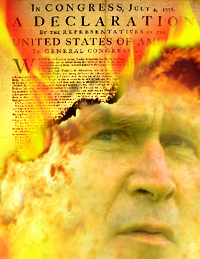 The Senate Judiciary Committee this morning began examining President Bush's use of signing statements. The ACLU says (press release received by e-mail, but will be up on their site shortly):
"President Bush needs a lesson in Civics 101," said Caroline Fredrickson, Director of the ACLU Washington Legislative Office. "The executive is supposed to enforce the laws Congress passes, and respect the separation of powers that define our country. But in this president's mind, he is above the law. His lack of respect for the rule of law and his abuse of power are evident, and we hope that today's hearing will highlight this administration's disregard for the law."

President Bush's signing statements have in most cases said that he will refuse to enforce part of a law because it conflicts with his extraordinary claims of presidential powers. The statements have covered numerous issues, including a congressional ban on the use of torture, affirmative action rules, protection for the integrity of scientific research and whistleblower protections. Such steps, the ACLU noted, defy the constitutional powers of Congress, and undermine the system of checks and balances.