Doctors Face Investigation in Rush Limbaugh Viagra Incident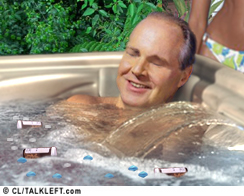 Bump and Update: The doctors may face investigation in Rush's Viagra case.
State attorney's office spokesman Mike Edmondson said his office also will look into whether Limbaugh violated that agreement with prosecutors. Prosecutors also will examine the possibility of "any doctor being complicit and the possibility of doctors being charged as well."
Update: Are the doctors really in trouble? Perhaps not. This is grounds for discipline:
® Prescribing, dispensing, or administering any medicinal drug appearing on any schedule set forth in chapter 893 by the physician to himself or herself, except one prescribed, dispensed, or administered to the physician by another practitioner authorized to prescribe, dispense, or administer medicinal drugs. Fla. Stat. § 458.331
If one doctor prescribed it to another doctor instead of to Rush for privacy reasons. what then? According to the Orlando Sentinel:
It is generally not illegal under Florida law for a physician to prescribe medication in a third party's name if all parties are aware and the doctor documents it correctly, said Mike Edmondson, a spokesman for the state attorney in Palm Beach County. He would not discuss specifics in the Limbaugh case Tuesday.