Duke Lacrosse Case: A Page of Their Own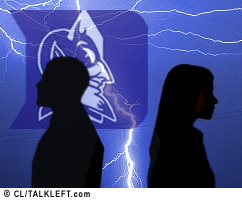 The Dukester commenters on TalkLeft cannot stop from discussing every detail and nuance of the case. For every post I write, even on days when there's no news, they post 200 to 500 comments.
TalkLeft's webmaster Mike Ditto has made them a gift -- a TL duke blog just for them.
So now when you want news and opinion on duke, just go here. It has every entry since April 2 and all of your comments, with links to each. New Duke posts will also show up on Talkleft's main page, but now those who come here just for Duke can bypass the more important issues of the day and duke it out to their heart's content.
For the rest of you that could care less about the Duke case, I'm still going to make a new entry every time the Duke comments on the latest entry top 250 or so, so just scroll on by when you see the graphic.
A huge thanks to Mike. And yes, this is another Duke open thread.