Guantanamo Detainees Not Told They Had Lawyers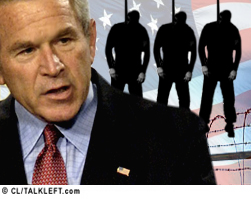 As if it's not bad enough that at least one of the Guantanamo detainees who committed suicide last week didn't know he had been cleared for release, now we find out some of them didn't even know they had lawyers.
The Yemeni captive who killed himself at Guantanamo Bay, Cuba, had an attorney arranging to visit him in August, but did not know it when he committed suicide. One of the Saudis, Mani Shaman al Utaybi, 30, had been approved for transfer to a jail back home, but also had never been told he was cleared to depart the U.S. detention center.
The military first maintained the men who hanged themselves did not have lawyers.