Truthout "Stands Down" on Rove Article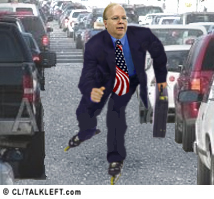 I'm very glad to see that Marc Ash of Truthout yesterday published a "stand down" on Jason Leopold's May 13 article reporting that Karl Rove had been indicted.
Yesterday, most Mainstream Media organizations published reports about a letter supposedly received by Karl Rove's attorney Robert Luskin. As an example of the supposed letter's contents, TIME Magazine stated that, "Special Counsel Patrick Fitzgerald said or wrote, 'Absent any unexpected developments, he does not anticipate seeking any criminal charges against Rove.'"

Truthout of course published an article on May 13 which reported that Karl Rove had in fact already been indicted. Obviously there is a major contradiction between our version of the story and what was reported yesterday. As such, we are going to stand down on the Rove matter at this time. We defer instead to the nation's leading publications.
Ash also, appropriately in my view, defends Jason Leopold: