EXCLUSIVE: No Deal for Karl Rove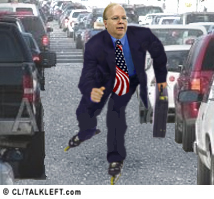 Sometimes people just don't know when to cry "uncle." I do. I asked Robert Luskin this morning if Karl Rove has made a deal with Fitzgerald. His response:
There has never, ever been any discussion of a deal in any way, shape or form.
Which is exactly what Luskin told me weeks ago. It's over, folks. Karl Rove will not be charged with a crime. He's cooperated with Fitzgerald by testifying to the grand jury five times and providing whatever information he had without a safety net. Without a 5k. Without assurances he would not be indicted. That's a hell of a risk, but Luskin pulled it off. My hat's off to Luskin.
I opined repeatedly on TalkLeft and HuffPo that Karl Rove would be charged at least with making a false statement to investigators in the fall of 2003 before a grand jury was convened -- the Martha Stewart crime. That was wrong.
I'm ready to put this to bed. Karl Rove walked. He's one of the rare subjects of an investigation who was able to talk his way out of an Indictment.
And yes, I think Jason needs to out his sources. If there was and will be no Indictment of Rove, his sources lied. If any are lawyers at Patton Boggs, I hope they lose their jobs and their law licenses.