NSA Warrantless Surveillance Case in Court Today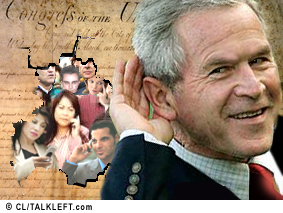 The ACLU argued its case against NSA warrantless electronic surveillance in a federal court in Michigan today.
A lawyer representing plaintiffs in the case said that the very statute the administration admits violating, the Federal Intelligence Surveillance Act, provides the mechanism by which the president can properly order spying. The law even provides for warrantless wire tapping for 15 days after the start of a war or for 72 hours in specific cases, after which the government can seek a warrant, argued Ann Beeson, a lawyer for the American Civil Liberties Union.

"The government has admitted the NSA is eavesdropping and not obtaining a warrant," Beeson said. "The Congress has expressly rejected language to broaden the president's authority."
Legal expert Andrew Cohen provides analysis in today's Washington Post.