Marines Who Cleaned Up After Haditha Traumatized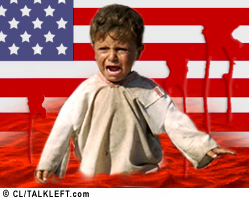 Marines Lance Cpl. Andrew Wright, 20, and Lance Cpl. Roel Ryan Briones, 21 were sent into Haditha to recover the bodies of those killed by fellow marines. According to their families, both suffered severe trauma as a result.
Briones' best friend, Lance Cpl. Miguel "T.J." Terrazas, had been killed the day of the attack by the roadside bomb, his mother said. He was still grieving when he was sent in to clean up the bodies of the Iraqi civilians.

One was a little girl who had been shot in the head, Susie Briones said. "He had to carry that little girl's body," she said, "and her head was blown off and her brain splattered on his boots."
Riones was on his second tour of duty in Iraq and had received a purple heart.
On Monday, both Marines were back at Camp Pendleton where base officials said several members of Kilo Company, 3rd Battalion, 1st Marine Regiment, 1st Marine Division were being confined during the investigations.
The LA Times has a more in-depth interview with Lance Cpl. Briones.
Riones has gotten into some legal trouble since his return which his mother attributes to PTSD from Haditha. In a letter to the court, his mother wrote that he knows who was responsible for the shootings. Both Riones and his mother say the military hasn't done enough to help him and the other returning soldiers.
Susie Briones said she is angry at what she described as the Marines' failure to adequately "decompress" him and other Marines when they come home from combat. She said she was writing a book to help other families avoid what she and her son are going through.

"I used to be one of those Marines who said that post-traumatic stress is a bunch of bull," said Ryan Briones, who has prescriptions for anti-depressants and sleeping pills. "But all this stuff that keeps going through my head is eating me up. I need immediate help."
Here is the website for Kilo Company, 3rd Battalion, 1st Marine Division which was involved in the killings.
As I mentioned yesterday in a much more detailed post on Haditha, ABC News has reported:
ABC News has learned from sources close to the investigation that the ranking Marine in the group who entered the homes and is a focus of the investigation is 25-year-old Sgt. Frank Wuterich.
And here is the interview with 12 year old survivor Safa Younis. The ITN video of an interview with another young girl and survivor, 10 year old Imam Walid is here.