Marines Who Cleaned Up After Haditha Traumatized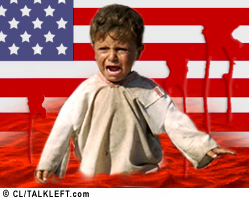 Marines Lance Cpl. Andrew Wright, 20, and Lance Cpl. Roel Ryan Briones, 21 were sent into Haditha to recover the bodies of those killed by fellow marines. According to their families, both suffered severe trauma as a result.
Briones' best friend, Lance Cpl. Miguel "T.J." Terrazas, had been killed the day of the attack by the roadside bomb, his mother said. He was still grieving when he was sent in to clean up the bodies of the Iraqi civilians.

One was a little girl who had been shot in the head, Susie Briones said. "He had to carry that little girl's body," she said, "and her head was blown off and her brain splattered on his boots."