Duke Lacrosse: More Attacks on Accuser's Credibility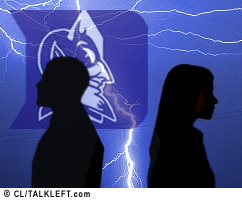 The Herald Sun reports on a new round of attacks on the Duke lacrosse accuser's credibility in the alleged rape case.
For example, three defense sources, who asked not to be identified, said a forensic examination of the alleged victim found no tearing, bleeding or other injury associated with a sexual assault. Instead, the exam detected only swelling in the accuser's vagina and tenderness in her breasts and lower right body, the sources said.