Duke LaCrosse Case: No Toxicology Report Turned Over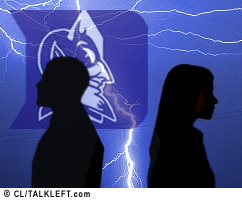 Durham County DA Mike Nifong has hinted for over a month that a toxicology report may show the accuser in the Duke Lacrosse players' case ingested a date-rape type drug.
When the case first broke in the press, Prosecutor Mike Nifong, a white
man who is running for election in a racially mixed county, hinted to
Newsweek that blood and urine tests of the woman would reveal the presence
of a date- rape drug.
Last week, the DA turned over more than 1,200 pages of discovery. Guess what? No toxicology report was included.