Another Internet Report of Karl Rove Indictment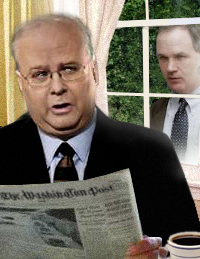 Wayne Madsen, whom I have not read previously, is reporting there will be an announcement of Karl Rove's indictment Friday. His story somewhat tracks Jason's Leopold's article, except he says the meeting at Luskin's office Friday was not for 15 hours, Rove wasn't given 24 hours to get his affairs in order and he adds that Attorney General Alberto Gonzales met with the grand jury on May 12 and was advised by them that Rove would be indicted.
WMR can report tonight on more details concerning the confusing reports regarding Karl Rove and Special Prosecutor Patrick Fitzgerald from last Friday. WMR can confirm that the appearance of Attorney General Alberto Gonzales before the Grand Jury at the US Federal Courthouse in Washington was a formality in which the jury informed the Attorney General of their decision to indict Karl Rove. That proceeding lasted for less than 30 minutes and took place shortly after noon. Gonzales's personal security detachment was present in the courthouse during the Grand Jury briefing. From the courthouse, Gonzales's motorcade proceeded directly down Constitution Avenue to the Department of Justice.

According to sources within the Patton and Boggs law firm, Karl Rove was present at the law firm's building on M Street. WMR was told by a credible source that a Patton and Boggs attorney confirmed that Fitzgerald paid a visit to the law firm to inform Rove attorney Robert Luskin and Rove that an indictment would be returned by the Grand Jury against Rove.