Jury Deliberating in Ken Lay - Jeff Skilling Case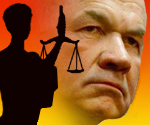 The Enron jury is deliberating the fate of Ken Lay and Jeff Skilling. Here's a recap of the witnesses who testified.
Andrew Cohen at WaPo's Bench Conference has been following the closing arguments. Today he discusses deliberations. I agree with him the jury won't return a very quick verdict. They have four months of evidence to pour through.