Michael Hayden: Warrantless Surveillance and Operation Trailblazer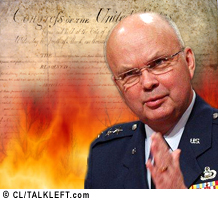 LNILR wrote yesterday of Michael Hayden's lack of understanding of the Fourth Amendment.
I agree. I have previously written about his role in the failed Operation Trailblazer program and his endorsement of Bush's warrantless NSA electronic surviellance program. Hayden was in charge of the NSA when Bush's program went into effect and was called upon by Bush to be a spokesman supporting it.