Ambien, Sweet Ambien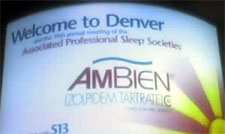 How popular is Ambien? I took this photo at baggage claim last year while picking up the TL kid. It was a large indoor billboard right by the carousels. More on that here.
The Washington Post has a funny article about Ambien users today.
After all these beautiful nights together, according to recent news reports, the Ambien zombies are arising against their will to gorge themselves at the fridge, or take the wheel, or do something illegal. It wasn't me, officer; it was Ambien.

...We are lagged-out, pajama-wearing drifters -- lost in the gap between slumber and wakey-wakey, even though Ambien's manufacturer, Sanofi-Aventis, implores users to follow the directions, as always: Take the drug only when you're on your way to (or already in) bed, and only when you have seven or eight uninterrupted hours to devote to sleep; don't take it with booze; make sure your doctor knows if you're taking anything else. Which is good advice, but is often met with "blah blah blah."