Ambien, Sweet Ambien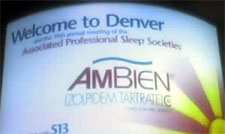 How popular is Ambien? I took this photo at baggage claim last year while picking up the TL kid. It was a large indoor billboard right by the carousels. More on that here.
The Washington Post has a funny article about Ambien users today.
After all these beautiful nights together, according to recent news reports, the Ambien zombies are arising against their will to gorge themselves at the fridge, or take the wheel, or do something illegal. It wasn't me, officer; it was Ambien.

...We are lagged-out, pajama-wearing drifters -- lost in the gap between slumber and wakey-wakey, even though Ambien's manufacturer, Sanofi-Aventis, implores users to follow the directions, as always: Take the drug only when you're on your way to (or already in) bed, and only when you have seven or eight uninterrupted hours to devote to sleep; don't take it with booze; make sure your doctor knows if you're taking anything else. Which is good advice, but is often met with "blah blah blah."
There are no rock songs about Ambien, and if there were, they would be really slow. (There could be poetry about it, perhaps, but who'd be awake to read it?) People won't share their Vicodin, but they'll let you have half an Ambien. People seem to take it not for a week to 10 days, as recommended, but for years on end. And let's not say much about sex and Ambien, since there isn't much sex and Ambien: I'll just lay here, you do your thing, and. . . . Zzzzzzzzzzzzz.
The article says before Ambien became popular in the last decade, insomniacs relied primarily on over-the counter drugs like Tylenol PM. Not so. Doesn't anyone remember how popular Halcion was in the 80"s? It was very much like Ambien, only more so. When Ambien came out, it was touted as a safer Halcion.
This reminds me of the post-civil war era, when doctors discovered a new miracle drug for morphine addiction. Because it stopped withdrawal symptoms, it was hailed as the "hero" drug -- they named it heroin.
Powell described his killer schedule in an interview Thursday with Abdul Rahman Al-Rashed, a reporter for a London-based Saudi newspaper. "So do you use sleeping tablets to organize yourself?" Al-Rashed asked.

"Yes. Well, I wouldn't call them that," Powell said. "They're a wonderful medication -- not medication. How would you call it? They're called Ambien, which is very good. You don't use Ambien? Everybody here uses Ambien."