LA Times: Dump Cheney and Rumsfeld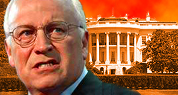 Bump and Update: the LA Times tells Bush to dump Cheney and Rumsfeld . As to Cheney:
Unlike most vice presidents, Cheney does not aspire to be president, and he is the consummate Bush loyalist. He would not be giving up a political birthright by agreeing to retire (citing health reasons or a concern about the publicity surrounding the trial of his former chief of staff, I. Lewis "Scooter" Libby). And the problem of taking sides in the 2008 election is easily solved. Bush could nominate as Cheney's successor an elder party statesman -- Bob Dole, anyone? -- with no interest in the 2008 nomination.
As to Rumsfeld:
The secretary should go not because he has been criticized by a group of retired generals but because he embodies the smugness and inability to acknowledge error that has characterized both the Iraq war and the wider war on terrorism. Rumsfeld has been the pinched public face of an administration that has cut legal and humanitarian corners in dealing with people -- including U.S. citizens -- suspected of involvement with terrorists.
I'm torn between thinking it's better for Democrats in 2006 and 2008 if Bush keeps Cheney and Rumsfeld--and hoping they go for the good of the country. Your thoughts?