Iran Claims 40,000 Suicide Bombers Ready to Attack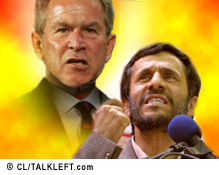 The Sunday Times (UK) reports if the U.S. or Britain attack Iran's nuclear sites, they have an army of 40,000 suicide bombers ready to take revenge:
IRAN has formed battalions of suicide bombers to strike at British and American targets if the nation's nuclear sites are attacked. According to Iranian officials, 40,000 trained suicide bombers are ready for action.
The group is called "Special Unit of Martyr Seekers in the Revolutionary Guards."