Bush, the Declassifications and the Leaks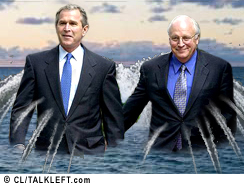 An Administration official has been dispatched by Bush (or was it Karl Rove?) to distance Bush from Libby's leak to select reporters of portions of the NIE report about whether Saddam was in the process of acquiring uranium to build WMD's. The New York Times reports:
A senior administration official confirmed for the first time on Sunday that President Bush had ordered the declassification of parts of a prewar intelligence report on Iraq in an effort to rebut critics who said the administration had exaggerated the nuclear threat posed by Saddam Hussein. But the official said that Mr. Bush did not designate Vice President Dick Cheney's chief of staff, I. Lewis Libby Jr., or anyone else, to release the information to reporters

.....The official responded briefly via e-mail on Sunday to questions from The New York Times.....the [official's] disclosure seemed intended to suggest that Mr. Bush might have played only a peripheral role in the release of the classified material and was uninformed about the specifics -- like the effort to dispatch Mr. Libby to discuss the estimate with reporters.