Cheney, Bush and the Missing Plame E-mails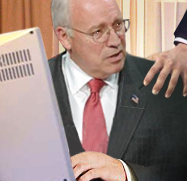 Do the missing e-mails from the Office of the Vice President implicate Bush and Cheney in Plamegate? Jason Leopold writes:
The officials, some of whom are attorneys close to the case, added that more than two dozen emails that the vice president's office said it recently discovered and handed over to leak investigators in February show that President Bush was kept up to date about the circumstances surrounding the effort to discredit former Ambassador Joseph Wilson.

The sources indicated that the leak probe is now winding down, and that soon, new information will emerge from the special counsel's office that will prove President Bush had prior knowledge of the White House campaign to discredit Plame Wilson's husband, former Ambassador Joseph Wilson, who accused the administration of "twisting" intelligence on the Iraqi threat in order to win public support for the war.
If you are wondering what President Bush told Fitzgerald during his 2004 interview, Jason reports,