Report: Rove Led Fitzgerald to Deleted E-Mails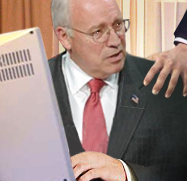 Raw Story reports, and Steve Clemons of the Washington Note confirms through a source close to Karl Rove, that it was Rove who tipped off Fitzgerald to the 250 pages of deleted e-mails in Vice President Cheney's offices relevant to the Valerie Plame investigation.
According to several Pentagon sources close to Rove and others familiar with the inquiry, Bush's senior adviser tipped off Special Prosecutor Patrick Fitzgerald to information that led to the recent "discovery" of 250 pages of missing email from the office of Vice President Dick Cheney. According to one source close to the case, Rove is providing information on deleted emails, erased hard drives and other types of obstruction by staff and other officials in the Vice President's office. Pentagon sources close to Rove confirmed this account.