H.R. 4437: A Bad, Bad Border Bill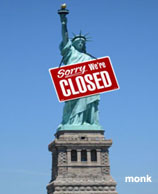 Bump and Update: The Senate Judiciary Committee will begin debating the Senate version of H.R. 4437 on Monday. It has already passed the House.
Update: From Common Dreams:
Apparently drowned out by the shrill charges and counter-charges in the immigration debate is a simple truth articulated by George Hunsinger, McCord professor of theology at Princeton Theological Seminary and coordinator of Church Folks for a Better America. He told us,

"No human being -- whether citizen or non-citizen -- should be placed outside the protections of the law. No one who performs needed work should be denied fair wages and decent conditions. A society that exploits immigrants for their labor while declaring them illegal is caught in a tangle of contradictions."
Update: (3/25) Barbara Boxer slams the bill:
"It's anti-faith based,'' Boxer said. "It's inhumane. Sensenbrenner is inhumane.''
More details on the bill are available from the ACLU here and here. As for what's wrong with employment verification programs, the ACLU explains here.