Report: Warrantless Searches Advocated After 9/11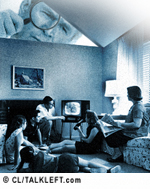 U.S. News & World Report, according to its press release read on-air Friday night by MSNBC's Keith Olbermann, will report on its website Saturday night that Bush Administration lawyers advocated the President had the power to authorize warrantless physical searches two weeks after September 11, using the same arguments adopted by Bush for his NSA warrantless surveillance program.
Crooks and Liars has the Olbermann video. Raw Story has the text of the press release that Olbermann read on the air.
U.S. News reported in December, 2005, that the U.S. engaged in physical monitoring of mosques and homes without warrants. [Via Think Progress.]
In search of a terrorist nuclear bomb, the federal government since 9/11 has run a far-reaching, top secret program to monitor radiation levels at over a hundred Muslim sites in the Washington, D.C., area, including mosques, homes, businesses, and warehouses, plus similar sites in at least five other cities, U.S. News has learned. In numerous cases, the monitoring required investigators to go on to the property under surveillance, although no search warrants or court orders were ever obtained, according to those with knowledge of the program.