Ashcroft Changes Jobs, Not Stripes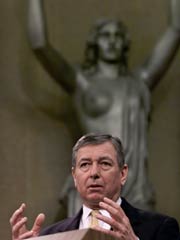 Former Attorney General John Ashcroft is now a Washington lobbyist. He's cashing in on his war on terror connections, representing companies that want government contracts. As Danielle Brian, executive director of Project on Government Oversight notes, having spent his career in government service, he has no business experience.
"What is he selling," Ms. Brian asked, "other than connections and knowledge of how to game the system from being attorney general?"
Examples of his clients: