Poll: 46% Favor Feingold's Censure Resolution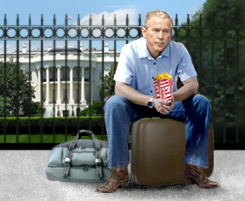 A new poll by the American Research Group finds that 46% of those surveyed favor Sen. Russ Feingold's resolution to censure President Bush for his NSA warrantless electronic surveillance program.
42% favor impeaching Bush. Some conclude that Bush may be losing the Independent voters for good.
42 percent of independents favored censuring Bush, 47 percent of them said they favored impeaching the president.
"Independents are moving beyond Bush, which, in many ways, is the worst thing that can happen to a president," Bennett said. Even with more than half of his second term in the White House still remaining, "he is becoming irrelevant to their lives," the American Research Group pollster added.