Feingold to Introduce Bush Censure Resolution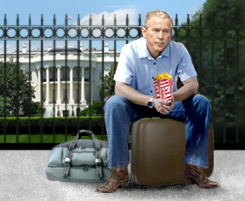 Bump and Update: Raw Story has the full transcript. Analysis: Georgia10 at Daily Kos, Firedoglake and Glenn Greenewald. Sen. Feingold has a fact sheet up on his site detailing the illegalities of the NSA program. Crooks and Liars has the video of Frist's response.
My view: Great move by Feingold. I'm against wasting time and energy on a doomed impeachment mission. The censure motion will continue to heap bad press on Bush and his autocratical presidency. More and more Republicans will fear being aligned with him in 2006. It might even sway some voters.
*******
This morning, on "This Week with George Stephanopolous", Sen Russ Feingold announced he would introduce a censure resolution against President Bush for his warrantless NSA surveillance program. He said the program is tantamount to high crimes and misdemeanors. Crooks and Liars has the video. From the transcript: