The Oscars: I'm Excited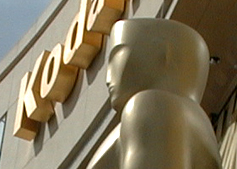 Bump and Update: HuffPo is running an Oscar's mashup thread with the best to be published Monday.
Update: CL, TalkLeft's man in Hollywood, came through with our new Oscar graphic. He also took these photos today of the preparations going on at the Kodak Center.
I'm going to watch Hustle and Flow now. Terrence Howard is up for Best Actor for his role in it. I think he was great in Crash and he's supposedly even better in H&F.
*******
Original Post: 10 am
Ok, I'll admit it. I love the Oscars. I try to see as many movies as I can. I like watching the clothes as much as the Awards. This year they should be even more interesting than usual because Jon Stewart is hosting. And there are so many good movies.