Pre-SOTU Open Thread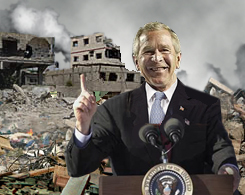 President Bush will give his State of the Union Address tonight. His approval rating hovers at 39%, no change from last month, according to the latest WSJ-NBC poll. The two most important issues to voters are health care and getting out of Iraq.
If you're not by a tv, the State Department will have live audio feeds of the State of the Union address on its Web site in English, Arabic, Farsi, Bahasa Indonesian, Spanish, French and Russian.
That won't help me since I'll be on an airplane, but I'm sure I'll catch the re-run.
[Graphic created exclusively for TalkLeft by CL.]