Lawyer Seeks Dismissal of Criminal Charges Over NSA Surveillance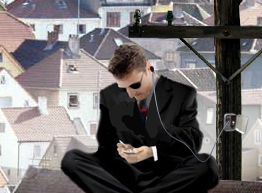 Criminal defense lawyer Terry Kindlon (a frequent reader and commenter on TalkLeft) has filed what is believed to be the first motion to dismiss criminal charges against his client due to Bush's warrantless NSA electronic monitoring program.
An FBI sting case that targeted two members of an Albany mosque should be dismissed because the investigation originated from a national spying program that may be illegal, an attorney for one of the defendants said in a motion filed in U.S. District Court. The challenge of the government's case against Yassin Aref and Mohammed Hossain, who are accused of taking part in a plot to sell missile launchers to terrorists, may force federal prosecutors, and a U.S. District judge, to address a national debate unfolding about whether the National Security Agency violated any laws by eavesdropping on U.S. residents.

Terence L. Kindlon, Aref's attorney, filed a nine-page motion late Friday asking for all evidence in the case to be thrown out, and for a dismissal of the indictment. While defense lawyers in the case have been requesting access to classified evidence for more than a year, the new motion specifically targets the NSA program.

....Now, with attorneys for Aref and Hossain confident secret surveillance was the catalyst for the FBI's Albany sting, the stage is set for the NSA program to be challenged on constitutional grounds as part of the local case. The question is whether the government will be compelled, even tacitly, to confirm that Aref was targeted because of information gleaned from the controversial spy program.