Democrats Should Think Twice Before Agreeing to Amend FISA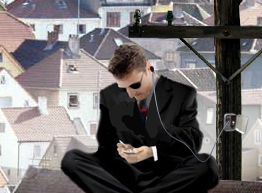 Update: The New York Times on Bush's planned weeklong spin mission for the NSA program.
****
Original Post
It's happening again. Everytime the Democrats come close to scoring, they drop the ball. They fall for the Republican rhetoric, try to play the middle and end up sounding like Republican-lites.
Here's what you will see in the next few days. All of the points made over Bush's warrantless NSA electronic monitoring program being illegal are about to go down the drain. Scared off by Karl Rove, and Bush's agenda of talking heads this week, the Democrats are now saying they are in favor of increased surveillance just as much as the Republicans. Their opposition is about to be reduced to accusing Bush of a technical violation they would only have been to happy to fix had he asked.