Give Us Your Feeble and Your Weak, We'll Kill Them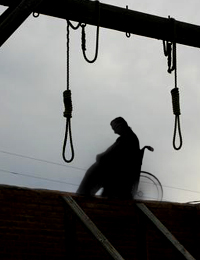 Clarence Ray Allen, 76, blind, crippled and riddled with diabetes and heart disease, is set to be executed at San Quentin tomorrow. Yesterday, the 9th Circuit denied his appeal in a 35 page opinion (pdf). [Update: the Supreme Court has declined to intervene.] Gov. Arnold Schwarzenegger denied Allen's request last week that he be granted clemency so he could die of natural causes in jail. He's been on death row for 23 years. (Background here.)
I'm reminded once again of the words of Martin Luther King, (and Gandhi before him)
That old law about "an eye for an eye" leaves everybody blind. The time is always right to do the right thing.
Perhaps the Supreme Court will listen and stop the execution. It's doubtful. Next year, with Judge Sam Alito on the bench, when another one of our graying, feeble prisoners on death row is carried to the gurney, there will be even less reason to hope for a reprieve.
The Los Angeles Times opines Allen's execution is about us, not about him, and calls for a moratorium on the death penalty.