How Bush Trumps the Constitution, Congress and the Courts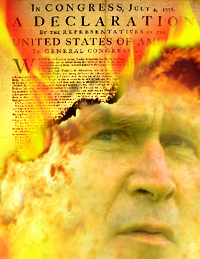 The New York Times today explores Bush's now infamous "signing statement" on the anti-Torture Amendment. It wasn't his first:
Mr. Bush has issued more than 100 of them, which scholars believe might be more than any other president. (Signing statements have been around since at least the administration of Andrew Jackson.) More significant, scholars say, Mr. Bush has greatly expanded the scope and character of the signing statement, even from the time of the Reagan administration.