Federal Judges Blast Immigration Court Decisions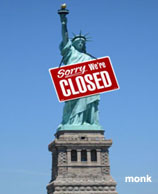 Biased. Incoherent. Below the minimum standards of justice.
Those are some of the harsh words federal appeals courts judges are using to describe the decisions of immigration judges in asylum and related cases.
The Times says part of the problem is the increase in immigration cases lodged in federal appeals courts since former Attorney General John Ashcroft issued new guidelines in 2002 that limited immigration courts' abilities to hear appeals.
In the courts in New York and California, nearly 40 percent of federal appeals involved immigration cases.