Say No to Sensenbrenner's Border Protection Bill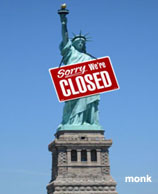 Update: Rep. Rep. Bennie G. Thompson (D-MS), leading Democrat on the House Homeland Security Committee (press release):
'This Bill is so Ridiculous that, According to the Republicans, Santa Claus Himself Would be a Criminal for Trekking from The North Pole to Deliver Holiday Gifts Without a Visa.'
The bill passed the House today, by a vote of 239-to-182. See Sensenbrenner gloat.
************
Original Post
The National Network for Immigrant and Refugee Rights wrote to Congress yesterday asking it to defeat H.R. 4437, the Border Protection, Anti-Terrorism and Illegal Immigration Control Act sponsored by Rep. James Sensenbrenner. I detailed the worst provisions of the bill here. Here's NIRR's webpage on the bill. From today's letter, received by e-mail: