Countdown to Execution: Stanley 'Tookie' Williams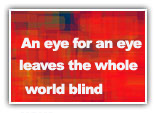 Countdown to execution.
Bump and Update: The Supreme Court has denied Stanley "Tookie" Williams request for a stay of execution. He will die at 12:01 am tonight (Tuesday Morning).
Update: Mike Petrelis has Schwarzegger's five page statement of denial of clemency.
Beautiful Horizens finds a death penalty dissent by Justice Marshall.
Sean Paul at the Agonist: "What requires more courage: revenge or forgiveness?"
Susan Hu of Booman Tribune at Daily Kos:
What matters for me is that murdering Tookie solves nothing, makes the United States look barbaric to the rest of the world, and destroys Tookie's future chances to influence more young people against entering the gang life. And his execution may cause terrible suffering in Los Angeles, which needs another race riot like it needs another earthquake.
Keep scrolling down below to read updated reactions from organizations, bloggers and others.
***********
Original Post: Arnold Denies Clemency for Stanley "Tookie Williams":
It's official. Gov. Arnold Schwarzenegger has denied clemency to Stanley "Tookie" Williams. He made the announcement by e-mail. portion:
I could find no justication for granting clemency.....there is no reason to second guess the jury's decision of guilt or raise significant doubts or serious reservations about Williams' convictions and death sentence."