Tookie Williams Seeks Court Stay of Execution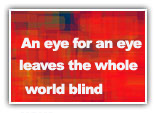 Lawyers for Stanley "Tookie Williams" have gone back to the California Supreme Court with a habeas petition to stay his execution. The grounds are:
Tookie was drugged through his trial as a form of behaviorial management and incompetent to stand trial
The prosecution withheld critical evidence about one of the witnesses against him who is now serving time for a different murder. Had the proseution disclosed his violent and criminal past, Tookie would have been able to argue that he, not Tookie, was the killer of one of the four victims.