Tookie Williams Decision May be Tomorrow Evening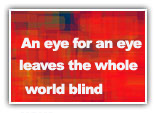 I'm told that Gov. Schwarzenegger will release his decision on clemency for Stanley "Tookie" Williams tomorrow between 6:30 and 7:30 pm, Pacific Time. I'll be discussing it on KABC Los Angeles radio, with host Al Rankel at 7:00pm PT. You can listen online here.
The LA Times reports:
His attorneys are expected to file a motion with the U.S. 9th Circuit Court of Appeals, perhaps today, seeking permission to file a new habeas corpus petition in U.S. District Court in Los Angeles.

At San Quentin on Thursday, officials began altering Williams' conditions in preparation for the possible execution, exchanging his clothes for sweats and shackling him and bolting him to a chair during his visits. Guards also removed most personal possessions from his cell, and will allow him only one item at a time — whether it's a toothbrush, a book or anything else — until the execution, corrections officials said.
Prison officials say this is their standard procedure for the period beginning five days before an execution.