Singapore's Retiring Hangman and His Next Victim
Unfortunately, this is a true story.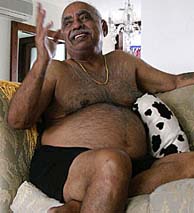 photo by journalist Alan Shadrake,
Darshan Singh is Singapore's official executioner. He has hanged more than 850 people in his 43 years on the job. He wants to retire. But he can't find a replacement.
"He tried to train two would-be hangmen to replace him, a Malaysian and a Chinese, both in the prison service," [his] colleague said. "But when it came to pulling the lever for the real thing, they both froze and could not do it.
The pot-bellied grandfather and former Singapore caner has an all-time record of hanging 18 people in one day. He hangs his victims while wearing very casual attire, usually a t-shirt and shorts.