Sheehan Arrested
Update (TL):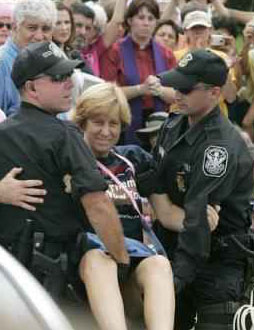 Caption from Jane at Firedoglake: DC Police Study for Gyno Exams.
************
Original Post by TChris
Cindy Sheehan was arrested today while protesting outside the White House.
Others who were arrested also cooperated with police. Sgt. Scott Fear, spokesman for the U.S. Park Police, said they would be charged with demonstrating without a permit, which is a misdemeanor.
So much for free speech, and the right to assemble, and the right to petition the government for redress of grievances.