Hunter Thompson's Final Blast-Off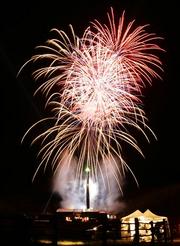 Bump and Update: More details from Saturday night's blastoff. The New York Times reports:
Jann Wenner, publisher of Rolling Stone, whose early history was entwined with Mr. Thompson's emerging career, said that Mr. Thompson was "the DNA of Rolling Stone" and called him "one of the greatest writers of the 20th century." ... Mr. Wenner recalled his drug-crazed exploits with Mr. Thompson but spoke of his feelings as well, saying at one point that he had been jealous of how close Mr. Depp had become to Mr. Thompson. "Now those days are gone," Mr. Wenner said. "Once I had Hunter all to myself, and now I don't have him at all. And none of us do."

....Mr. Thompson's fans were kept at bay, as were most of the news media, and guests were barred from bringing cellphones, cameras and recording devices. Orange cones marking a tow-away zone extended for three miles beyond Mr. Thompson's home off a narrow strip of rural roadway. Black-clad security guards, aided by a dozen county sheriff's deputies, patrolled the 40-acre property, which Mr. Thompson bought in 1968 for $50,000 and is now worth millions.