Iran Executes Two Gay Teenagers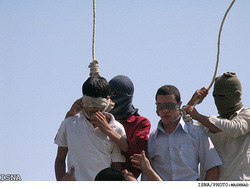 Very few things render me speechless. This is one of them. Via PageOneQ:
Two boys, one aged 18 and one underage minor, were lashed 228 times before being hung by Iranian authorities in the northeastern city of Mashad, PageOneQ has learned.

Within hours of the execution, Members of Iran's parliament expressed outrage, not for the deaths of the two young men, identified only by the the initials A.M. and M.A., but at journalists who reported the ages of those who were put to death.
Ignorant, despicable barbarians. A pox on all their houses.