Schapelle Corby to Get New Hearing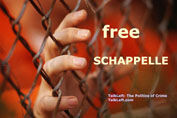 The Indonesian high court has agreed to reopen Schappelle Corby's case and allow her new defense team to present new witnesses.
The defense has a tough job though - the Court is expecting it to produce the person who put the 4.1 kilos of marijuana in her luggage.
[Lawyer Hotman Paris Hutapea]called on Australians to write to the Government to ask them to identify those airport staff who were on duty the day Corby travelled. He also wanted the Australian Federal Police to give evidence about incidents of illegal movement of drugs through Australian airports.
[hat tip to Heretik]