Blogger Participation in Supreme Court Nominee Debate
Thanks to Mark at Dembloggers for putting up the video to my debate today on MSNBC's Connected Coast to Coast with Mark of Blogs for Bush.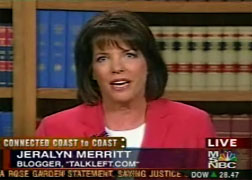 We talked about the growing influence of citizen journalists, I called on the President to consult with the Senate and nominate a consensus nominee, one show would respect constitutional rights and freedoms, and I endorsed 5th Circuit Judge Edward Prado (who, it was very cool to point out, was put on the federal bench by show host Ron Reagan's father, President Ronald Reagan.) It was a fun segment and Mark did a very good job representing his side.
I normally don't post pictures of myself on the front page of TalkLeft, but it's day two (and the last day) of TalkLeft Appreciation Days so I gave myself permission.
Ian at The Political Teen also has the video up of the segment.
Update: If you don't feel like watching, Bob Brigham at Swing State Project has a rough transcript of what I said. Thanks, Bob.