Schapelle Corby Gets New Lawyers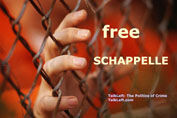 Schapelle Corby has fired her old legal team and assembled a new one.
The coordinator of Schapelle Corby's new legal team, Walter Tonetto, says he is concerned that much of the Corby trial was played out in the media.

Corby yesterday sacked her Indonesian legal team, including the recently hired Jakarta-based lawyer Hotman Paris Hutapea. Her decision came after Perth QC Mark Trowell accused her Indonesian defence team of suggesting the appeal judges could be bribed into overturning her 20-year-sentence.

Ties between the Corby family and the Gold Coast businessman Ron Bakir have also been cut. Dr Tonetto says he will be meeting with Australian officials soon to discuss the Corby case.
More on the new team is here.