Panhandle Texas Prosecutor Sentenced to Five Years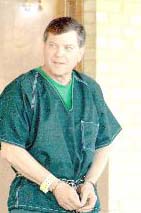 When we last checked in with Texas Panhandle District Attorney Rick Roach, elected following a get-tough-on drugs campaign, he had pleaded guilty in federal court to a being a drug addict in possession of a firearm in exchange for the dismissal of several more firearms and cocaine and methamphetamine charges. Among the sordid details:
Alleged illegal drug use, pornography on a work computer, 2 pounds of missing methamphetamine, and a syringe found floating in a staff-only courthouse toilet - all of that and more came forth Tuesday as part of the developing case against 31st District Attorney Rick Roach of Pampa.
Today he was sentenced to five years in prison. He still faces state drug charges, and 10 to 99 years or life on those charges.