Group Seeks Death Penalty for Schapelle Corby
Update: Guilty. We live blogged the verdict listening to an Australian tv network's webcast and live feed of the two hour reading here.
Bump and Update: Drug Activists in Indonesia are calling for the death penalty for Schapelle Corby...for allegedly importing 9 pounds of pot into Bali. They say the Government should make an example of her. As we explain in the original post below, Schappelle maintains her innocence and is awaiting the judges' verdict. We will be bumping this post frequently as new information becomes available to call attention to her plight.
***********
Original Post: 5/12/05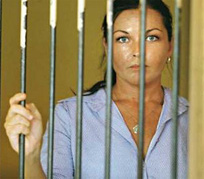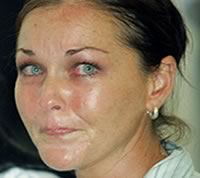 Actor Russell Crowe has taken up the cause of an Australian beautician imprisoned on drug charges in Bali, Indonesia.
Crowe said: "The photographs of Schappelle Corby broke my heart. "I don't understand how we can, as a country, stand by and let a young lady rot away in a foreign prison. That is ridiculous. "It is Indonesia, fine and dandy, but we need to find a rational platform to save this girl's life."