Abortion Foes Let Their Own Kids Get Arrested
What kind of parents let their ten year old kid get arrested? Answer: Anti-abortion activists, like those out in force at the Florida hospice where Terri Schiavo is spending her final days.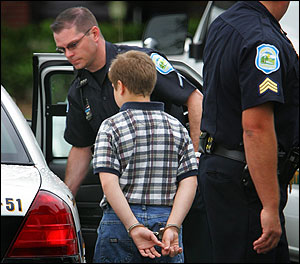 Earlier at the hospice, veteran pro-life activists skilled in civil disobedience at abortion clinics joined demonstrators to orchestrate the peaceful arrest of 10 people, including three children, ages 10 to 14.

Those arrested were charged with trespassing after their staged attempt to carry Styrofoam cups of water into the hospice. "It's an act of Biblical obedience, not civil disobedience," said Chet Gallagher, 55, a former Las Vegas motorcycle policeman turned anti-abortion activist with Operation Rescue. Gallagher, fired from his job in 1989 after he joined anti-abortion demonstrators whom he was supposed to arrest, has been jailed "at least 100 times" for his activism, he said. Each stepped up to waiting officers, then knelt down and acknowledged that they still wanted to proceed into the hospice.

Police then notified them that they were being arrested, helped them to their feet, and handcuffed each of them, including Chris Key, 43, of Texas, and three of his children. The adults were taken to the Pinellas County Jail. The children went to a juvenile center.

"My 10-year-old said that Jesus said, `If you offer a cup of water in my name, you did it for me.' And he told me that's what he wanted to do," said Key's wife, Gaylen.
Where's Gloria Allred and why isn't she demanding that Social Services remove these kids from their parents custody like she did with Michael Jackson?