Clinton Campaigns With Kerry in Philadelphia
Looking good, sounding better...former President Clinton "rises from his sick bed" to campaign with John Kerry in Philadelphia today.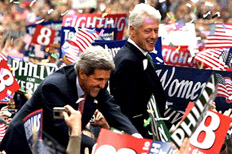 Check out the size of this crowd. Estimates are 100,000 and higher.
And where was Bush? In Greeley, Colorado, stumping for Congresswoman Marilyn Musgrave, chief sponsor of the Gay Marriage Ban Amendment. Musgrave's seat is critical, and it's no lock. Stan Matsunaka has been catching up --he needs more money for the final week of ads--please, throw him some change.