Cat Stevens Update: Denied for Links to Potential Terrorists?
Bump and Update: Cat Stevens was deported today.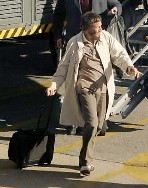 A leading Muslim group has called upon President Bush to explain the deportation.
At a news conference here Wednesday, the Council on American-Islamic Relations said, "Yusuf Islam is perhaps one of the most widely-known and respected personalities in the Muslim world. He has a long history of promoting peace and reconciliation and condemning terrorism....Treating mainstream and moderate Muslims like Yusuf Islam as if they are criminals or terrorists, without bringing charges or allowing for due process, sends the message to the Islamic world that even those who seek peace and condemn terror are not fit to enter the United States. We call on the Bush administration to explain why Yusuf Islam was barred from coming to this country and whether other internationally-respected Muslim travellers or scholars will face such treatment in the future."
*********************
Update to last night's post on the U.S. denying entry to musician and peace activist Cat Stevens, (Yusuf Islam) -- The San Francisco Chronicle reports:
[A] government official, who spoke only on condition of anonymity, said Islam was placed on a watch list after multiple intelligence sources in recent weeks indicated the peace activist may have associations with potential terrorists.