4 Navy Commandos Charged in Death of Abu Ghraib Detainee
Four navy commandos have been charged with abuse and lying in the beating death of Manadel al-Jamadi, an Iraqi prisoner at Abu Ghraib. Those charged include three Navy seals and one sailor assigned to the Seal unit. They are the first Officers to be charged in the Abu Ghraib abuse scandal. More Seals are expected to be charged.
The incident also drew attention because the detainee was being questioned by the Central Intelligence Agency at Abu Ghraib, but was kept off the prison roster. Army officials also said this week that about two dozen soldiers were expected to face abuse-related charges in the deaths of two Afghan prisoners at a American-run detention center in Afghanistan in December 2002. In addition, an Army report released last week recommended disciplinary action against 41 members of the military police, military intelligence soldiers, civilian contractors and Army medics in connection with abuses at Abu Ghraib.
Here's a picture of Army SPC Sabrina Harmon (who is not one of the charged commandos) posing over his corpse: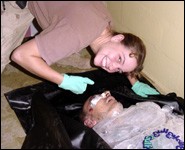 Background on al-Jamadi's death is here.