DNC: Protesters to be Caged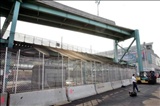 This is ridiculous. How can the Court allow it? This will be the shame of Boston:
An area designated for organized protests appears enclosed by mesh and chain link fencing near the site of the upcoming Democratic National Convention, in Boston, Wednesday, July 21, 2004. A new federal lawsuit has been filed against the city over the fenced-in protest area that has been called a 'demonstration zone,' and a 'free speech zone.'
From an editorial in the Boston Globe today:
US District Judge Douglas Woodlock also split the difference Thursday when deciding two lawsuits brought by civil liberties activists. The judge, wisely, will allow antiwar protesters access to Causeway Street tomorrow for what is expected to be the largest protest march of the week. But disappointingly, Woodlock left intact the pathetic coop, complete with razor wire and netting, that is to serve as the designated protest area during the rest of the week. Yesterday, lawyers for the protesters appealed for redress to the US Court of Appeals, and a three-member panel of judges agreed to review the case and additional filings on Monday morning. Clarity must be brought to Woodlock's decision, in which he refers to the protest zone as "an affront to the idea of free expression" yet, fearing violence, allows it to remain.